Research Facilities
Acoustic Transducers Lab
Location: ENG 120C
Professor: Rasim Guldiken
Lab Website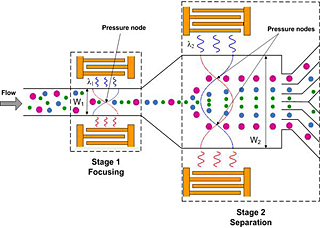 Acoustic Transducers Laboratory at University of South Florida investigates novel microfabricated ultrasonic transducers for various applications ranging from early disease detection to structural health monitoring. The lab's main efforts are concentrated on fundamental investigation of design, microfabrication and experimental characterization of these tiny (smaller than human hair or sand particle) devices.
---
Cellular Mechanotransduction and Biomaterials Laboratory
Location: ENG229A/B
Professor: Nathan Gallant
Lab Website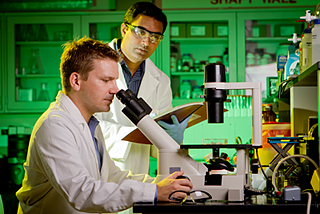 The Cellular Mechanotransduction and Biomaterial Laboratory was established to analyze the mechanical and biochemical interactions between cells and their microenvironment and harness this information to control cell behavior. We are particularly interested in adhesion receptor-mediated processes and developing novel tools and strategies to investigate how cells interface with native and engineered extracellular matrices. Our goal is to answer questions such as: How are extracellular mechanical cues sensed, transmitted, and interpreted to regulate cell function? How does the spatiotemporal presentation of adhesive ligands influence cell behavior? What are the signaling pathways and mechanosensitive proteins responsible for cellular force generation? The answers to these questions will enable us to design instructive biomaterials for regenerative medicine applications.
---
Computational Fluid Dynamics and Heat Transfer Laboratory
Location: ENG 204
Professor: Muhammad Mustafizur Rahman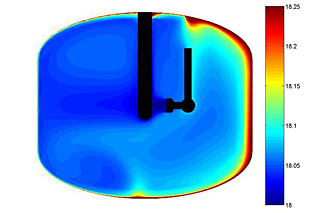 The focus of research in this laboratory is the modeling and simulation of fluid flow and heat transfer in engineering devices. Current research includes analysis of refrigeration and air conditioning systems, energy storage devices for renewable power generation, and thermal management of heat generating equipment.
---
Computational Methods Research and Education Laboratory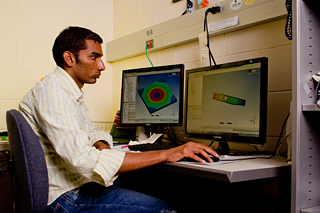 We are developing, assessing, refining and revising an online course in Numerical Methods. The resources of this course receive more than 1 million page views per year. We are developing alternative assembly procedures for bascule bridge fulcrums to avoid failure of these fulcrums. We are developing 3-D micromechanical models to evaluate the elastic moduli of unidirectional composite materials.

---
Environmentally Benign Design and Manufacturing Lab
Location: ENG 19D
Professor: Delcie Durham

Cradle-to-cradle engineering of green products through sustainable design principles, environmentally benign materials processing and manufacturing / remanufacturing systems. Our lab investigates methods to reduce the environmental impact of products through total life cycle management – reducing resource use in both the production phase and the use phase of products, and designing for reuse and remanufacture to enhance the materials flow. We have focused on processes such as waterjet cutting and thin film deposition and on products such as dishwashers and machine tools to more effectively design future products. We conduct life cycle analysis with tools such as EIO-LCA and SimaPro to better understand the true costs of materials and process selection as well as the trade-offs between design for performance and design for the environment.

---
Materials and Mechanics Lab
Location: ENG 120D
Professor: Wenjun Cai
Lab Website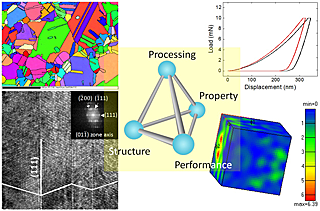 The Materials and Mechanics lab is conducting interdisciplinary research at the interface of materials science, mechanical engineering, and solid state physics. We explore the processing-structure-property relationships in structural metals and materials using experiments, analytical theory, and computer simulations. Our research focus include: new processing strategy for energy efficient engineering alloys and coatings; and fundamental understandings of the physical, mechanical, and tribological properties of multifunctional materials.
---
Micro/Nano Integration Laboratory
Location: IDRB 207
Professor: Nathan Crane
Lab Website
The lab focus is objective is to improve capabilities to fabricate functional systems. Optimal performance is usually achieved when different materials and even complete devices are integrated together. Because there are few commercial methods for integrating small components, we focus on the challenges of integrating functional microscale components into working systems. We are addressing this from multiple directions including self-assembly, directed assembly, and hybrid approaches. The lab has a particular expertise in designing systems based on capillary forces and in manipulating these forces through electrowetting effects. Other research areas include wetting properties of textured surfaces, additive manufacturing, and thermoelectric system design.

Figure 1 Illustration of hypothetical microscale integration system that integrates stochastic self-assembly processes and directed assembly processes to create functinoal systems.
In this illustration, (a) microfabricated parts are fed from known positions down a fluidic conveyer (B). Other parts Self assemble (C) and then move down a separate conveyer belt to be assembled on a 2D positioning substrate (E).
---
Nanomechanical Testing Laboratory
Location: ENG 120E
Professor: Alex Volinsky
Lab Website
Thin films processing, mechanical properties and characterization
Adhesion and fracture of thin films
Nanoindentation
Pattern formation
Irradiated materials properties and X-Ray diffraction
---
Nanotechnology Research and Education Center (NREC)
Location: NTA 102
Professor: Ashok Kumar
Lab Website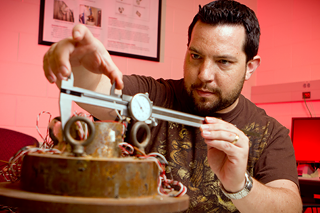 The Nanotechnology Research and Education Center (NREC) is a university-wide user fabrication and metrology center providing state-of-the-art equipment, professional support personnel and infrastructure to enable multidisciplinary research. The tools that the NREC has installed and maintain offer users the capabilities to complete all stages of fabrication using traditional techniques as well as nanofabrication and characterization beyond the nano scale using the Transmission Electron Microscope, Atomic Force Microscope, and X-ray analysis. The NREC provides an interface between macro-learning and nan0-realization. Research areas include: nanomaterials and micro/nano fabrication methods related to fundamental materials science, sensors, actuators, electronics, bio-systems, medical products, optics and integrated micro and nanoscale systems.
---
Rehabilitation Engineering and Electromechanical Design Lab (REEDlab)
Location: IDRB 114
Professor: Kyle Reed
Lab Website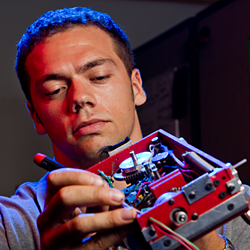 Dr. Reed's research goal is to enable effective rehabilitation outside the clinic, such as in one's own home, by augmenting the fundamental human dynamics to affect a beneficial change in the cognitive perception of human motion. Effective home-based rehabilitation is essential to meet the rising demand of physical therapy after stroke while simultaneously reducing the costs of care. With this goal in mind, some of Dr. Reed's research examines how individuals with a stroke can self-rehabilitate by using their healthy arm to guide their impaired arm (also called bimanual rehabilitation), how a passive impedance shoe can alter the effects of asymmetric walking patterns, and using an asymmetric passive dynamic walking model to test hypotheses about how individuals walk when external parameters are changed.

---
Rehabilitation, Robotics and Prosthetics Testbed
Location: RRT, 13337 USF Laurel Drive
Professor: Stephanie Carey
Lab Website
The Rehabilitation, Robotics and Prosthetics Testbed (RRT) is one of the laboratories for the Center for Assistive, Rehabilitation & Robotics Technologies (CARRT). RRT is divided into two parts: 1) applied biomechanics testing and data collection area and 2) design and education area. The testing area includes an 8 camera motion analysis system, force plates, force transducers, a testing apparatus for activities of daily living, various ramps, platforms and a gravel pit, a rehabilitation support and safety system and advanced modeling software. The design and education area has work stations for undergraduate and graduate student researchers, a conference table, projector and various visual aids used for meetings and design planning.
---
Rehabilitation Robotics Lab
Location: ENG 19A
Professor: Redwan Alqasemi
Lab Website
This Robotics lab is part of the Center for Assistive, Rehabilitation & Robotics Technologies (CARRT). Facilities in this lab include a PUMA 562 6-joint robotic arm, an RRC 7-joint robotic arm, two wheelchair-mounted robotic arms, a brain-computer interface (BCI 2000), Omni haptic devices, various user interface devices, stereovision camera, various sensors and motors, work benches, computer workstations and various robotics and Capstone projects. Projects being developed in this lab include the wheelchair-mounted robotic arm (WMRA) project, which is designed to be operated by individuals with disabilities to perform activities of daily living efficiently and independently. The project employs a 9-degree-of-freedom system consisting of a robotic manipulator mounted on a powered wheelchair, a full sensor suite, and a central control algorithm. The algorithm combines the mobility of the wheelchair and the manipulation of the robotic arm to allow the user to perform activities of daily living in an efficient fashion. Another project being developed in this lab is the Assisted Telerobotics and Haptics research. CARRT has developed various rehabilitation and assistive technology algorithms to assist individuals with disabilities in their daily living using mobile and stationary robotic arms, such as PUMA and RRC robotic arms. These robots are controlled using Haptic devices that provide force feedback to the user when controlling them. One of the major research components being studied in this lab is the inclusion of human input in the control loop for shared or coordinated control between human and machine.
---
Vibrations and Dynamic Systems Lab
Location: ENG 106
Professor: Daniel Hess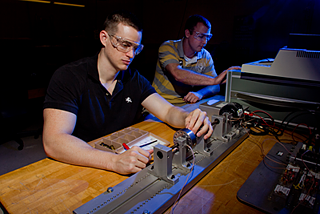 Vibrations / Dynamics measurement, modeling, and analysis
Dynamic friction
Controls / Microcontrollers / Sensors
Fasteners / bolted joints
Vibration diagnostics of solar cells
Orthopedic fixations; Accelerated aging / dynamics of instruments